69-104 STARTER MOTOR BRUSH HOLDER
| | |
| --- | --- |
| Payment Type: | L/C,T/T,Western Union |
| Terms of Trade: | FOB,CFR,CIF |
| Min. Order: | 10 Piece/Pieces |
| Delivery Time: | 7-45 Days |

| | |
| --- | --- |
| Packaging: | CARTON,PALLET,COLOR BOX |
| Productivity: | 10000PCS/MONTH |
| Brand: | ZOWO |
| Transportation: | Ocean,Air |
| Place of Origin: | CHINA |
| Supply Ability: | 10000PCS/MONTH |
| Certificate: | ISO9001 |
| HS Code: | 85119090 |
| Port: | NINGBO,SHANGHAI,GUANGZHOU |
Product Description
Delco 50MT Starter Motor Brush Holder,69-104,1945849,1967354
ZOWO NO.
ZWDE003-BH

WAI NO.
69-104
OEM NO.
Replaces:
Caterpillar 7M0330, Delco 1945849, 1967354, Original Reference Number 55-476
Unit Nos:
Case 20-1297T91, 462588C91, 489717C91, 739911C9, 739912C91; Caterpillar 0R2697, 0R4267, 0R4271, 0R4272, 0R5210, 0R5211, 0R5212, 0R5213, 0R5214, 0R5215, 10R9816, 120-9100, 1P7112, 1P9162, 1P9182, 2371962, 2M1431, 2M1464, 2P3926, 2S3473, 338-3454, 338-3456 , 374458, 3L5939, 3L8205, 3S4458, 3S8473, 3S9207, 3T2773, 3T2774, 3T2775, 3T2776, 3T2779, 3T2780, 3T2781, 3T2782, 3T2783, 3T2784, 3T2785, 3T2787, 3T2788, 3T2876, 3T3430, 3T3778, 3T3876, 3T7226, 3T8452, 3T8942, 3T8943, 3T8944, 3T8945, 3T8946, 3T8947, 3T8948, 3T8949, 3T8950, 3T8954, 3T8959, 3T8961, 3T8963, 3T8967, 4M4615, 4N0959, 4N3180, 4N3273, 4N3313, 4N3343, 4N3349, 4N3387, 5L3648, 5L3648, 5L4405, 5L5353, 5L5354, 5L5382, 5L648, 5L8205, 5LG48, 5N2685, 6N0424, 6N3226, 6N9667, 6N9677, 6S9207, 6T0640, 6T0643, 6T0647, 6V0511, 6V0512, 6V0513, 6V0588, 6V0590, 6V0889, 6V0890, 6V0928, 7N6056, 7N8604, 7T4957, 7T9162, 853961, 859207, 8L5377, 8L5937, 8L5939, 8L6205, 8L8204, 8L8205, 8S3961, 8S9207, 8S9524, 8S9542, 9G6096, 9G6097, 9L2200, 9L5417, 9L6464, 9L6474, 9L6484; Cummins 173184, 3000576, 3004699, 3004700, 3010125, 3021038, 3063771, 3603866RX, 3603867RX, 3603868RX, 3603887RX, 3603888RX, 3604645RX, 3604655RX, 3604658RX, 3604680RX, 3632274, 3632274RX, 3636820, 3636821, 3651892, 4081236, 4081236, 4081236, 4081236; Delco 10455855, 10461056, 10461057, 10461103, 10461125, 10461369, 10461400, 10478800, 10478813, 10478827, 10478828, 10478829, 10478830, 10478846, 10478853, 10478862, 10478874, 10478904, 10478919, 10479125, 10479126, 10479167, 10479342, 1109220, 1109221, 1109222, 1109224, 1109274, 1109275, 1109276, 1109277, 1109278, 1109279, 1109280, 1109281, 1109282, 1109283, 1109284, 1109285, 1109286, 1109287, 1109288, 1109289, 1109290, 1109291, 1109292, 1109293, 1109294, 1109295, 1109296, 1109297, 1109298, 1109299, 1109493, 1109494, 1109497, 1109545, 1109553, 1109554, 1109555, 1109624, 1109625, 1109626, 1109627, 1109628, 1109630, 1109631, 1109632, 1109633, 1109635, 1109636, 1109637, 1109638, 1109640, 1109641, 1109642, 1109643, 1109644, 1109645, 1109646, 1109647, 1109648, 1109649, 1109755, 1109757, 1109758, 1109759, 1109768, 1109769, 1109771, 1109772, 1109773, 1109774, 1109775, 1109776, 1109777, 1109778, 1109779, 1109780, 1109781, 1109782, 1109787, 1109788, 1109789, 1109790, 1109791, 1109792, 1109793, 1109794, 1109795, 1109796, 1109797, 1109798, 1109799, 1109828, 1109829, 1109830, 1109831, 1109832, 1109833, 1109834, 1109835, 1109836, 1109837, 1109838, 1109839, 1109840, 1109841, 1109842, 1109843, 1109844, 1109845, 1109846, 1109847, 1109848, 1109849, 1109949, 1109961, 1109962, 1109963, 1109964, 1109965, 1109966, 1109968, 1109969, 1109970, 1109971, 1109972, 1109973, 1109974, 1109975, 1109977, 1109978, 1109979, 1109980, 1109983, 1109984, 1109985, 1109986, 1109987, 1109988, 1109989, 1109996, 1109998, 1109999, 1114663, 1114669, 1114677, 1114679, 1114680, 1114681, 1990225, 1990226, 1990227, 1990228, 1990229, 1990230, 1990231, 1990232, 1990233, 1990234, 1990235, 1990236, 1990237, 1990238, 1990239, 1990240, 1990241, 1990242, 1990243, 1990244, 1990246, 1990247, 1990248, 1990249, 1990250, 1990251, 1990252, 1990253, 1990254, 1990255, 1990256, 1990257, 1990259, 1990260, 1990261, 1990262, 1990263, 1990264, 1990265, 1990266, 1990267, 1990268, 1990269, 1990270, 1990271, 1990272, 1990273, 1990274, 1990275, 1990276, 1990277, 1990278, 1990284, 1990291, 1990333, 1993739, 1993740, 1993743, 1993753, 1993781, 1993825, 1993839, 1993840, 1993841, 1993847, 1993852, 1993864, 1993922, 1993959, 1993960, 1993968, 1993989, 8200207, 8200208, 8200456, 8200480, 8201091, 8201153; Detroit Diesel R0461125; Euclid E821132X; Fiat Allis 70620350, 70675686, 70697811, 73114229, 73130196, 73130197, 73130198, 73130627; Ford D8HZ-11002-C, E2HT-11001-DA, E3HZ-11002-A, E3HZ-11002-B, E3HZ-11002-C, E4HZ-11002-A, E4HZ-11002-B; IHC, Navistar 462588C91, 489717C91, 729912C91, 739911C91, 793785C91; John Deere RE10464; Mack Truck 2132X10461057; Original Reference Number 410-12158; Prestolite MS7-300A, MS7-300A, MS7-300A, MS7-300A, MS7-300A, MS7
Lester Nos:
3296, 3297, 3298, 3702, 3872, 3902, 3905, 4600, 4801, 4851, 4896, 4897, 4918, 4927, 4930, 4937, 4992, 6374, 6760, 6762, 6764

DESCRIPTION
For :
• Delco 50MT Series DD Starters
Notes:
• 12-brush version, brushes not included. For 6-brush version use 69-115 brush holder assy.
Features:
• 100% New
Dim:8x19x19

USED ON
Allis Chalmers (1960-1973) , Autocar HD (1970-1979) , Case (1979-1993) , Caterpillar Ag. & Ind. (1964-2006) , Chevrolet (1971-1988) , Clark (1965-1986) , Construction Equipment Co. (1967-1974) , Cummins Engines (1983-1992) , Dresser (1984-1993) , Drott Mfg. (1976-1978) , Euclid (1960-1972) , Fiat-Allis (1960-1993) , Ford (1974-1988) , Freightliner (1970-1993) , GMC (1971-1988) , Grove Mfg. (1983-1987) , Hough (1965-1966) , Ingersoll Rand (1963-1964) , International (1965-1987) , John Deere (1981-1989) , Kenworth (1962-1990) , Komatsu (1985-2001) , Le Tourneau-Westinghouse (1965-1966) , Lister-Petter (1990-2003) , Mack (1984-2007) , Murphy Diesel (1964-1980) , Peterbilt (1965-1990) , Steiger (1977-1986) , Terex (1968-1979) , Versatile (1981-1992) , Volvo (1983-1993) , Wabco (1979-1987) , Waukesha (1963-1989) , Western Star HD (1974-1998) , White Industrial (1974-1995)

BRUSH HOLDER , ONE COMPONENT OF THE FIELD CASE OF STARTER MOTOR
All kinds of carbon brush and holder assemblies for automobile starters and alternators.If you still cannot find the holder assembly you want on our website,please feel free to contact us!
Compare costs, read reviews, and get the best deals on aftermarket or replacement Starter Brush Holder. Free Shipping on all qualified orders!
WHY CHOOSE US?

1.We can supply various kinds of carbon brush and brush holder for automotive, motorcycle, electric power tools, home appliance etc.
2.With advanced technology and automatic machine, quality assured products are produced for customers.Moreover, they have passed the ISO 9001:2001 certification.
3.Products are characterized by little spark, low noise, long time, and lubrication.Nonstandard carbon brush can be designed and manufactured as your personal samples or drawings.
4.Any request for dimension and types, please feel free to let us know!We offer good price and fastest delivery!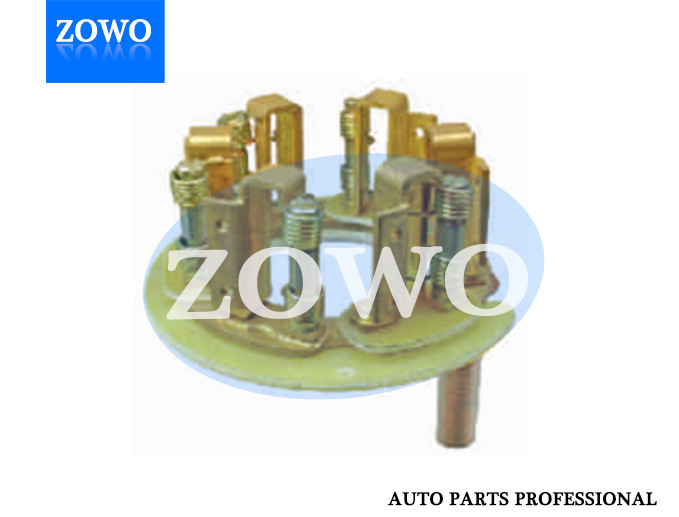 Starter Motor Brush Holder Products
Keep in mind that starting your vehicle is all about the flow of electricity. So if you can't make your engine run whenever you turn the ignition switch on, you must ensure if the electric power from your battery is reaching its destination. Take the Starter Brush Holder for example. If this part fails, it won't be able to hold the Starter Brush in its proper position. And that means that the brush won't conduct the current that's coming from the source. But you know what? This concern can be easily resolved by replacing this faulty component. Since electricity can speed up the deterioration of some of your vehicle components, a worn out Starter Brush Holder is not that unusual. And to solve this, you need to act fast by acquiring a quality replacement. An aftermarket holder like this can provide the same excellent performance as your OEM component. So if you're looking for part that can dish out a long service life, this part can give that since it's made from hardwearing materials that can withstand constant wear. Additionally, it's designed to match the specifications of your vehicle so rest assured that you can do it without any difficulties. And that saves you from paying a professional mechanic just to get this simple task done. A faulty Starter Brush Holder can badly affect the flow of electricity in your vehicle's starter. So to fix this problem, you need to get a premium-quality replacement here at Zowoparts today.

We are supply starter motor, car alternator , and thier spare parts for many years.
Sarter Motor : Denso Sarter, Delco Starter, Bosch Starter, Mitsubishi Starter,Ford Starter etc.
Car Alternator: Denso Alternator, Ford Alternator, Nissan Alternator, Delco Alternator, Bosch Alternator etc.
Also including Starter Parts and Alternator parts.
Ningbo zhongwang auto fittings co.,ltd
NINGBO ZHONGWANG AUTO FITTINGS CO.,LTD is a professional manufacture and exporter with over 20 years experience in the auto parts industry, located in Ningbo, Zhejiang, where is a famous Port in china. We are a supplier of 100% NEW Alternators , Starters, Crank Shafts, Clutch Disks, Piston, Cables, Clinder Head and other auto parts for industrial, agriculture. It covers Heavy duties, Trucks, Cars, Buses, Forklifts,Tractors and so on. We have over 40,000 items ranging from Alternators , Starters, Crank Shafts, Clutch Disks, Piston, Cables, spare parts, all of which are readily available. Including kinds of brands. Bosch, Delco, Denso, Ford, Mitsubishi, Iskra, Hitachi, Lucas, Sawafuji, Nikko, Used On: Audi, BMW, Fiat, Renault, Benz, Iveco, Ford, Mitsubishi, Toyota, Isuzu, Mazda, Nissan, Honda, Hyundai, Deawoo, Hino, GM, Buick, Chevrolt, and More.... Many of products are sold to North America,Asia, Africa, South America,Latin America and well appreciated by their purchasers. We have the professional and experienced service team. insisting that [clients first, reputation first", We are committed to provide reliable service and quality products to our customers. Now we are still growing year by year, and developping the new products all the time. Wish can cooperate with you and bring better benefit to both of us sincerely.
Company Name: Ningbo zhongwang auto fittings co.,ltd
Representative: WANGXI
Product/Service: AUTO STARTER , AUTO ALTERNATOR , CLUTCH PARTS , ENGINE PARTS , AUTO CARBURETOR , GENERATOR MOTOR
Capital (Million US $): 1000000RMB
Year Established: 2014
Total Annual Sales Volume (Million US $): US$10 Million - US$50 Million
Export Percentage: 91% - 100%
Total Annual Purchase Volume (Million US $): US$5 Million - US$10 Million
No. of Production Lines: Above20
No. of R&D Staff: 5 -10 People
No. of QC Staff: 5 -10 People
OEM Services Provided: yes
Factory Size (Sq.meters): 1,000-3,000 square meters
Factory Location: No.50-1 TiangFeng Road,Fenghua,Ningbo,Zhejiang,China
Contact Person: Mr. WANGXI
Tel: 86-574-88956210